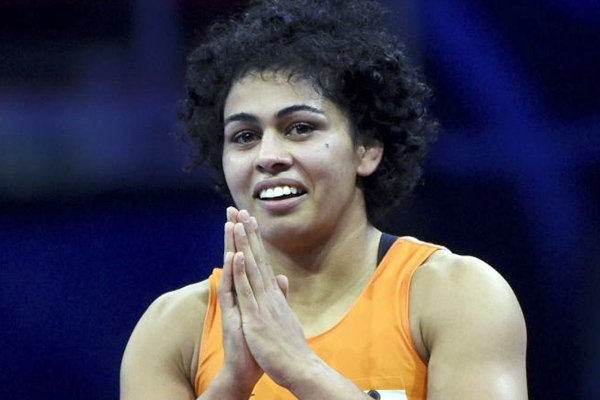 (Image source from: www.deccanchronicle.com)
Pooja Dhanda became fourth Indian grappler and first in six years to take the bronze medal at the World Championships on Thursday.
Pooja defeated Grace Bullen of Norway 10-7 in the 57kg Freestyle category to obtain the bronze medal at the Papp Laszlo Sportarena in Budapest.
Prior to Pooja, only three Indian women grapplers - Alka Tomar in 2006, Geeta Phogat and Babita Phogat in 2012 had secured a bronze medal each at the World Championships.
Pooja, who led 6-1 in the first period, had to go through some acutely distressing moments in the second period when the Norwegian initiated an all-out attack which the Indian managed to stave off, despite giving away some passivity points and step-out points.
Indeed, what secured the bronze play-off bout in Pooja's approval was the four-pointer which zoomed her to an unassailable lead after the Indian got to Grace's leg and rolled her for the critical clincher.
Earlier, Pooja had won over Alyona Kolesnil of Azerbaijan 8-4 to reach the bronze medal playing period.
In the meantime, in the 50kg freestyle bronze medal play-off, India's Ritu Phogat started with a promise only to fade away against the tight defense of Ukraine's Oksana Livach.
The Ukrainian finally bagged the bronze with a 10-5 win.
However, Rio Olympic bronze medallist Sakshi Malik failed to past the repechage round, losing 2-3, including a challenge point to Hungarian Marianna Sastin to bow out of the contest.
Earlier in the day, four of India's Greco-Roman wrestlers got off to a hapless start at the World Championships with each of them losing in the first round. Gaurav Sharma (65kg), Vijay (55kg), Harpreet Singh (75kg), and Kuldeep Malik (72kg) crashed out of after meek defeats.
A World Junior bronze medal winner, Vijay, lost 1-9 to Chinese Liguo Cao, while Gaurav went down to Poland's Jacek Michal 3-7.
And then, Kuldeep followed suit when Japanese Tomohiro Inoue defeated him 9-0 and ultimately Morocco's Zied Ait Ouagram outclassed Harpreet Singh 15-4.
-Sowmya Sangam