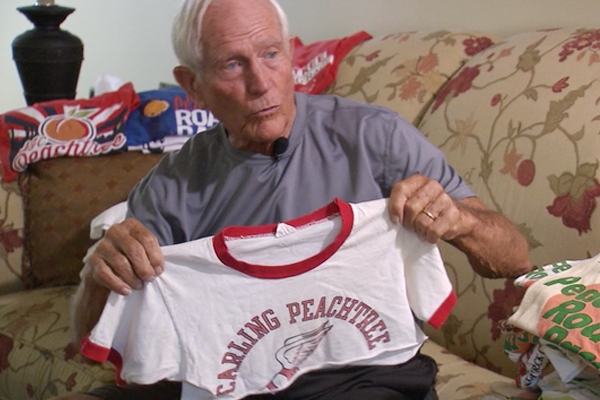 Of the 60,000 people lining up to run the Peachtree Road Race, only one Georgia man has crossed the finish line every single year since it's inception. Bill Thorn, 86, is on a "silver streak" - gearing up for his 48th straight race.
"In that first year, they didn't shut anything down... It was hot, breathing fumes. We stayed close to the curb," Thorn laughed.
Thorn has the first shirt issued by the race organizers. It is frayed and cut off in the middle, reflecting the fashion of the 1970's. "Had I known what this race was to become - I would never have cut it off - I would have never worn it. I would have preserved it!"
"This didn't come easy and every year it gets tougher," Thorn explained while doing pushups. "I just want to do the simple, mundane things in life. And keep doing them."
Thorn have one big goal - reaching race number 50. And hopes his fitness inspires others to not just be active, but diligent. That "You lose it if you don't use it."
"I don't stop. I do it 7 days a week. That means 365 days a year. And, I love it. Does it hurt? Yes, sometimes. But you just keep on going," he laughed.
Thorn will run with his granddaughter this year.
By Premji