Maunraag - Sachin Khedekar & Chandrakant Kulkarni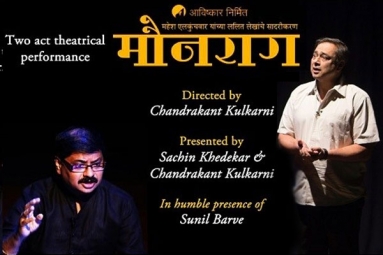 About this Event
Maunraag - Sachin Khedekar & Chandrakant Kulkarni
This is a theatrical presentation by Chandu Kulkarni and Sachin Khedekar. Maunraag is written by Mahesh Elkunchwar. It's about his upbringing and life-changing moments in his life. Prof Elkuncwar is the most respected and awarded experimental theatrical playwright in India, today. He is awarded the fellowship of Sangeet Natak Akademi - this fellowship is the highest regard to any writer in India.
Format:
We would be projecting a documentary film on the works and life of Prof Elkunchwar.
Interval.
Maunraag narration readouts by Chandu Kulkarni.
Maunraag one man show by Sachin Khedekar.
Looking forward to meeting you at the show!
EVENT TITLE & ADDRESS
STARTS FROM