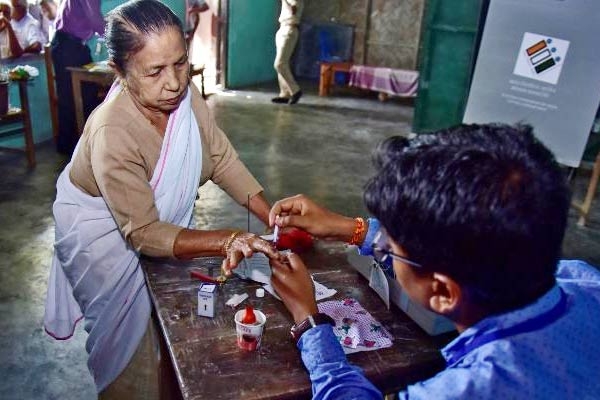 (Image source from: IndiaToday)
Polling in some booths in Andhra Pradesh continued till Thursday midnight as the total turnout reached nearly 80 percent on account of hours of tension and clashes that left two dead and many injured.
The polling concluded around midnight in some polling stations in Guntur, Krishna, Nellore, and Kurnool districts as authorities allowed all the voters standing in queues at 6 p.m. to cast their votes.
Malfunctioning of Electronic Voting Machines (EVMs) and clashes led to the delay in about 400 polling stations in different parts of the state.
Tension prevailed in Mangalagiri constituency in Guntur district, where Chief Minister N. Chandrababu Naidu's son and Telugu Desam Party (TDP) candidate staged a protest against the failure of election authorities in making proper arrangements. Leaders of opposition YSR Congress Party (YSRCP) staged a counter-protest.
As many as 25 incidents of violence ruined polling for simultaneous elections to the 175-member Assembly and 25 Lok Sabha seats.
Chief Electoral Officer Gopal Krishna Dwivedi said 74 percent polling was recorded till 6 p.m. He said the overall percentage could go up to 80.
The Election Commission had received representations for re-poll in some booths from various parties which the commission would take a decision after going through the available records, evidence, and reports of the poll officials concerned.
A worker from the TDP and another of the YSRCP were killed in violence in Anantapur and Chittoor districts.
Complaints of non-functioning of Electronic Voting Machines (EVMs) and consequent delay at the start of polling were received from across the state.
Chief Minister and TDP president N. Chandrababu Naidu expressed his dejection over EVMs not functioning at several polling booths. He wrote a letter to the Chief Election Commissioner, demanding repoll in 150 booths.
Nearly over 3.93 crore voters were eligible to vote to decide the fortunes of 319 candidates for Lok Sabha seats and 2,118 candidates for Assembly polls.
About 46,120 polling stations were set up and authorities deployed nearly four lakh personnel including more than lakh security workforce.
-Sangam Sowmya