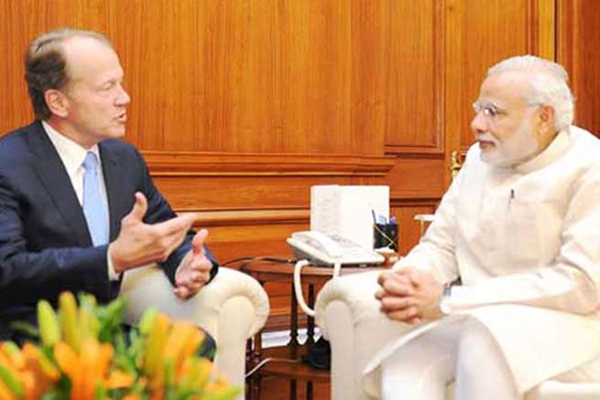 US India Business Council has already invested $28 billion in India, since 2014. The council Chairman John Chambers told Narendra Modi, the Prime Minister of India, about their planning to invest $45 billion more in India, "In September 2014, the USIBC members indicated an investment figure of $41 billion that was likely to be invested over a 2-3 year period. Today, I'm happy to announce that in less than two years, about 20% of the USIBC members have already invested $28 billion,". He added, "In the next 2-3 years, we will see this pace accelerating -- with indications that USIBC members are on track to invest an additional $45 billion, which is a conservative estimate,"
After finishing the roundtable with the USIBC members including the heads from PepsiCo, Master Card, Warburg Pincus, Lockheeed Martin, Boeing, Westinghouse, Intelsat, Emerson and 8 Minute Energy, Chambers met Modi. Modi awarded Dilip Shangvhi of Sun Pharmaceuticals and Jeff Bezos of Amazon with the USIBC Leadership award. After receiving the award Shangvhi said that, US is the biggest market for his company and the 50%  turnover of Sun Pharma comes from the US. "We have invested close to $4 billion in the US and we continue to invest both in manufacturing, infrastructure as well in R&D. Out of $450 million we will spend on R&D, $200 million will be spend in the US,"
Bezos said that, "We have already created some 45,000 jobs in India and continue to see huge potential in the Indian economy,"
Modi assured to maintain proper macroeconomic policies, gender justice and empowerment, social security net and inclusive growth while stating that, major steps have been taken against corruption, which is one of the main concern of India.
Modi said in an event, where many top political persons were present that "This brings me to an achievement that I think even our worst critics do not dispute."
By   Prakriti Neogi