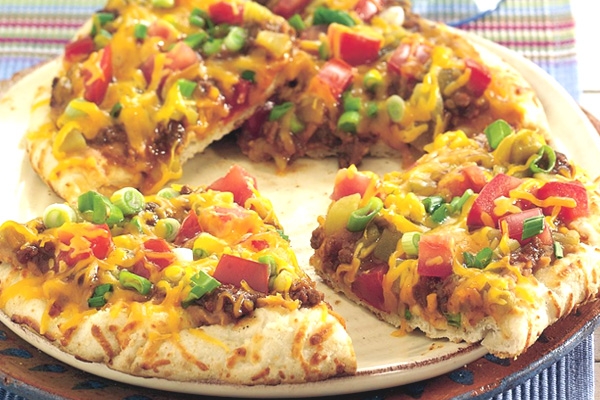 (Image source from: Pillsbury.com)
Kidney Beans and Corn Pizza are fabulous, lip-smacking, and colorful pizza recipe. This pizza is loved by all and it also has the goodness of kidney beans and corn. This pizza has a nice flavor of various seasoning and mouth-watering taste. Every bite of this pizza gives a nice taste and flavor. Try this tong-tickling pizza at your home and treat your kid's.
Ingredients
For The Rajma Topping
1 cup soaked and boiled rajma (kidney beans)
1 tbsp butter
1 tbsp oil
1/2 cup chopped onions
1/2 cup chopped capsicum
1/2 tsp chili powder
2 tbsp tomato ketchup
salt to taste
Other Ingredients
2 thin pizza base (7") each
1/2 cup chopped tomatoes
1/2 cup boiled sweet corn kernels (makai ke dane)
1/2 cup grated processed cheese
For The Pizza Base
1 1/2 cups plain flour (maida)
1 tsp dry yeast
1 tbsp olive oil
1 tsp sugar
salt to taste
plain flour (maida) for rolling
Directions
For The Pizza base
1. In a bowl, add 2 tbsp of lukewarm water and dry yeast and mix it well and cover with a lid and keep it aside for 5 minutes.
2. In a bowl, add the plain flour, yeast-water mixture, olive oil, sugar and salt and knead it into a soft dough by using enough water.
3. Cover the dough with a wet muslin cloth and keep it aside for 1 hour.
4. Press the dough lightly to remove the air and divide the dough into equal portions.
5. Roll each portion into a 175 mm. (7") diameter circle with the help of plain flour and prick each circle evenly by using a fork.
6. Place a rolled dough on a greased baking tray and bake in a preheated oven at 180°c (360°f) for 5 minutes and keep it aside.
For the rajma topping
7. Mash the rajma coarsely by using a potato masher and keep it aside.
8. Heat the oil and butter in a broad non-stick pan, add the onions and fry on a medium flame for 1 minute.
9. Add the capsicum and fry on a medium flame for 1 minute.
10. Add the rajma, chili powder, tomato ketchup and salt, mix well and cook on a medium flame for 2 minutes and stir occasionally and keep it aside.
How to proceed
11. Arrange 2 pizza base on a clean, dry surface and spread half of the rajma topping on each pizza base and spread it evenly.
12. Top it with ¼ cup corn, ¼ cup of tomatoes and ¼ cup of cheese evenly over each pizza base.
13. Bake in a preheated oven at 200°c (400°f) for 12 minutes or till the pizza turns crisp and the cheese melts.
14. Once baked, removed from the oven, cut into equal wedges and serve it with chilled fruit juice.
By Meghna Nath