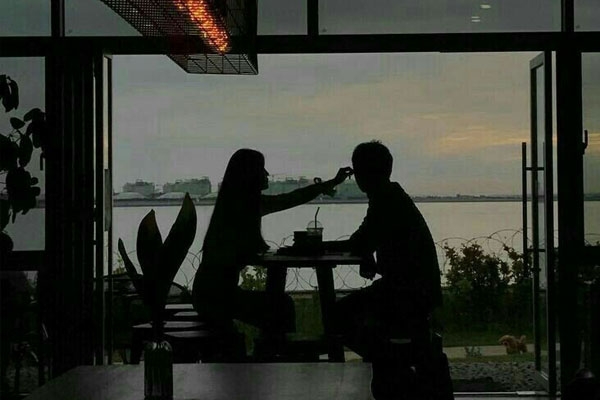 (Image source from: pintrest.com)
If you are have just got into a new relationship and want to preserve it, there are some topics to discuss with your significant other. This not only helps both of you get a better understanding of each other but also keeps the relationship between you two healthy. Here are a list of topics for and your partner to talk about to preserve the sanctity of your relationship.
1. Talk about your day-to- day activities
All the conversations you have do not need to be deep. Asking your partner how was their day, what did they have for lunch and so can help them open up to you more. It will help you understand how your partner is hen they are not with you.
2. Spending habits
Whether you like it or not, the green talk is bound to come sooner or later. Discuss money, spending habits and both of your financial goals. Discuss saving and spending money on the whole. Do not depend on your partner to always spend. A relationship will be healthy if both of you contribute to your and your partner's expenditures equally.
3. Where you both would love to travel
Spark up a conversation about where you both would love to travel in the future. This can also spark some romantic getaways and surprises between you and your partner.
4. Future goals
Learn what both of you want to do in the future other than the relationship as in, what do each of you want to become, what are your aims, missions etc.
5. Relationship goals
Find out what each of you want to do with each other. Is the relationship serious, do you see each other getting married, do you see each other starting a family, etc. Make sure that both of you are on the same page. If there are complications arising in this area of conversation, it might be time to end the relationship.
6. Spiritual Beliefs
Learn what your partner believes in. Do they follow a religion or are the spiritual. See if you are comfortable with that and make sure both of you have a good understanding and accept the other person's beliefs.
7. Your habits
For example if your partner is a smoker and you are not comfortable with that, have a talk with each other and see what it is that makes both of you comfortable. Do not compromise for each other as that might lead to further arguments between you two.
8. The future and now the past
It is important to know who your partner was before they began dating you. Knowing who they were before gives you a better understanding on the kind of person they are. You can also appreciate them for how far they have come from being the person who they were back then to the person who they are today. It will also help you deal with your partner's past trauma and helping them get through it. Also, if your partner has done anything unethical in the past and has completely redeemed it, do not bring up their past and hold them accountable for it. Try to help them get through it as they are trying to become a better person. After all, you would want your partner to treat you the same way right?
9. The family
They say if you marry your partner you are also marrying their family. If you are having issues with their family, it might not be good to continue the relationship. Unless your partner stands up for you in front of his family, if you are on bad terms with your partner's family, it might be good to discuss this issue with your partner and come to a common answer and understanding.
10. Politics
Politics can be a sensitive issue. It is possible that supporting opposing teams can cause rifts. Discuss how both of you feel about politics, voting, political parties and the government.
11. Interests
It is good to bring up a conversation that shows the common qualities between you and your partner. It can spark more affection and bonding among you two. Look for topics related to interest such as TV shows, movie genres, books, hobbies, activities, sports etc. Pick a few that you both share in common and engage in them. Also, do not disregard your partner's interest if they are not something you like or share in common. Try to be more open minded and understand their interests and try to engage in them and get to know their interests more. You showing interest in your partner's interest is actually very healthy for the relationship.
12. Problems
Bring up the topic of problems. If you are an addict or suffer from any mental illness, it is healthy to open up to your partner at your own comfort. Discussing your issues with your partner and likewise can actually help both of you grow into a better person and feel more comfortable with each other. Also, if you are fighting, do not bring up or blame it on your partner's problems. In a relationship, if there is something you feel uncomfortable with, do not start a fight. Have a healthy discussion instead. This way, both of you benefit and no one has to undergo any kind of stress or negative emotions.
13. Boundaries
Before you engage in any sexual activity with your partner, discuss the boundaries. Make sure both you and your partner understand what both of you would like to do, not like to do and how far are both of you willing to go physically, mentally and emotionally.This is a very important topic to discuss with your partner from causing any harm or trouble to them physically, emotionally or mentally.
Points to remember:
Sometimes, having a conversation is not enough to bring about a spark or connection in a relationship. However, talking and having conversations with your partner, deep or casual can increase the intimacy and strengthen the relationship between you two. However, do not reply on conversations to save your relationship if you feel like it is collapsing. We wish you the very best and a happy relationship.
By Meena Atmakuri