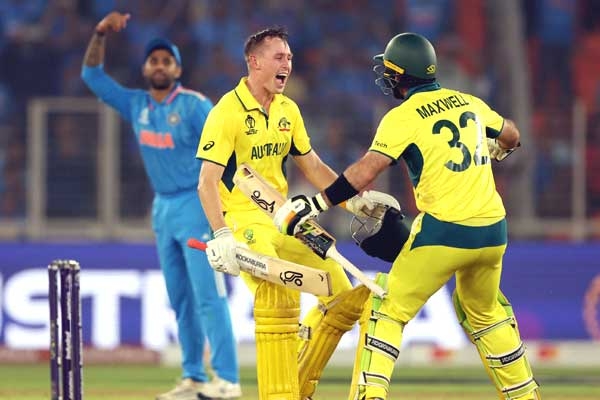 (Image source from: Twitter.com/ICC)
Australia has emerged as the world champions once again, securing their sixth title in a remarkable fashion. Led by Pat Cummins, the team displayed unwavering determination against the Rohit Sharma-led Indian side, ultimately claiming a well-deserved victory in Ahmedabad on Sunday. Despite India's status as the tournament's only undefeated team, Australia showcased their prowess and justified their position as the record holders for the most World Cup titles. The highly regarded Indian batting lineup failed to deliver, resulting in a modest target of 241 runs for Australia. While Virat Kohli and KL Rahul managed to score half-centuries, Rohit Sharma's explosive knock of 47 off 31 balls could not propel India to a formidable total. In response, Australia successfully chased down the target in just 43 overs, with Travis Head leading the charge with an impressive 137 runs off 120 balls.
Virat Kohli has been honored as the Series' Most Valuable Player. Kohli's outstanding performance of 765 runs sets a new record in World Cup history. He achieved this remarkable feat with an impressive average of 95.62 and a strike rate of 90.31, hitting three centuries and six fifties along the way. Travis Head, on the other hand, receives the Player of the Match award for his phenomenal knock of 137 runs off 120 balls. Despite Australia's initial struggle at 47/3, Head's counterattack not only ignited a comeback but also paved the way for an eventual easy victory. Australia's journey in the tournament began with a 6-wicket loss to India, but they conclude on a high note with an equally convincing win in the final. Following their defeat to India, Australia suffered another setback against South Africa, losing by a margin of 134 runs. However, this marked the last time they tasted defeat in this edition of the tournament. Indian fans are left heartbroken with the loss in the final. Several players were emotional after the loss.