Keedaa Cola Movie Review, Rating, Story, Cast and Crew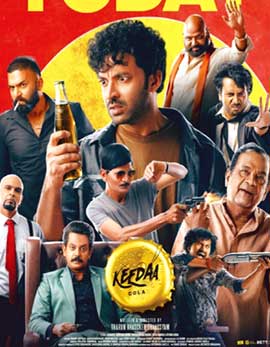 Rating:

Director:

Tharun Bhascker

Cast:

Chaitanya Rao, Rag Mayur, Brahmanandam, Tharun Bhascker

Banner:

VG Sainma

Producer:

K. Vivek Sudhanshu, Saikrishna Gadwal, Srinivas Kaushik Nanduri, Sripad Nandiraj, Upendra Varma

Music:

Vivek Sagar

Release Dt :

Nov, 03 2023
Story
Keedaa Cola is the story of Vaastu (Chaitanya Rao) who suffers from Tourette Syndrome. He lives with his grandfather (Brahmanandam). The duo finds a cockroach in a cola bottle in their refrigerator and they approach Lancham (Rag Mayur) who is not a successful lawyer. They decide to make crores of rupees by filing a case in the Consumer Court. The other option is to blackmail Jeevan (Jeevan), an upcoming politician who aims to become a Corporator for their region. Then comes Naidu (Tharun Bhascker) and the rest of Keedaa Cola is all about what happens next. Watch the film to know about the twists and turns.
Analysis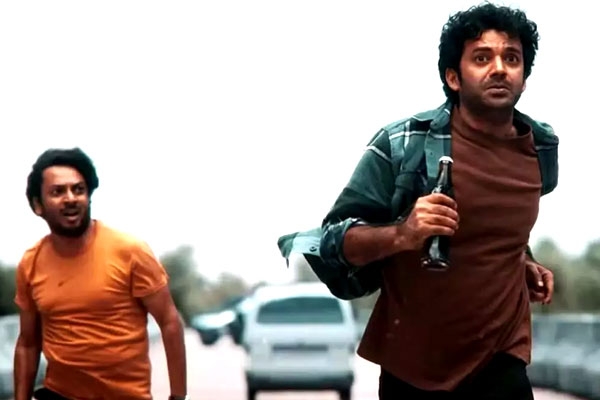 Keedaa Cola is a wacky film and it will not appeal to everyone. There is sensible entertainment at times and the rest of the film is passable. There are no boring episodes throughout. The performances and the writing is the major USP of the film. Keedaa Cola has several subplots and actors coming in. The first half is strictly average and it generates enough smiles at times. The presentation is very good and the background score elevates the film. The interval twist is good.
The second half starts on a good note and the last one hour of Keedaa Cola is hilarious and is loaded with twists. Tharun Bhascker dominates himself as an actor and he is one of the highlights of the film. The dialogues and one liners are too good. Some of the English dialogues are well written. The climax is shot well and Keedaa Cola ends up on an impressive note.
Performance
Tharun Bhascker is the real hero of the film. He dominated all the other actors in the role of Naidu and he is a treat to watch. He also delivers a strong message and his dialogues are well written. Jeevan is very good in his attempt and he would get many more roles after Keedaa Cola. Brahmanandam is decent in his role. Chaitanya Rao suits the role well and he is subtle in the attempt. Rag Mayru generates enough smiles. Vishnu is hilarious. Ravindra Vijay does his part well and Getup Seenu shines in a cameo. All the other actors did their parts well.
Keedaa Cola is a film that is high on technical standards. Tharun Bhascker comes with up with a simple plot and the film becomes engaging because of the impressive screenplay. The dialogues are hilarious and witty. There is a lot of fun generated from the one-liners and the dialogues. The cinematography is just brilliant and Vivek Sagar rocks with his background score. The songs are ok. The production values are grand. Tharun Bhascker makes a decent attempt as director with Keedaa Cola and it would appeal to the multiplex audience.
Final Word
Tharun Bhascker delivers one more different attempt Keedaa Cola and it makes a decent watch over the weekend.
Stills from this movie
Videos & Trailers