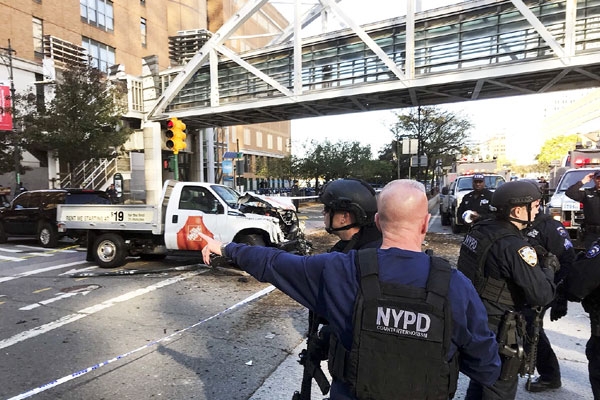 (Image source from: people.com)
The worst ever vehicle led terrorist attack since 9/11 in the NYC.

Manhattan: Oct 31; A pickup truck rammed into the recreational corridors early this evening and killed around 8 people. The driver took to the crowded bike path along the Hudson river and started firing. Bikers and other people around were all set for their Halloween celebration when this incident occurred. This is the worst terror attack post 9/11 in New York.

The lone wolf extremist identified as Syfullo Habibullaevic Saipov, a 29 year old Uzbek national cried out "Allahu Akbar" and mowed down cyclists and other people on the bike path as he drove past them. Allahu Akbar is the Arabic for God is great.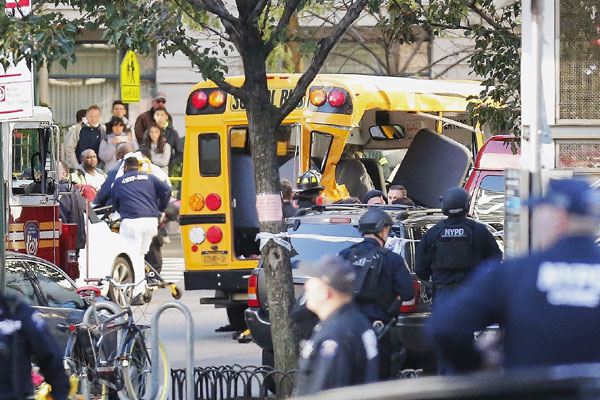 Image credit: people.com

Just a few miles off the WTC memorial, the suspected ISIS extremist shot down the afternoon riders and slammed into a school bus later. Then he jumped off it and ran all over the highway with his pellet gun and paintball gun. He kept shouting "allahu AKbar" until he was downed by NYPD officials with a bullet in his abdomen. He was in critical condition until late Tuesday night.

AT 3:05 pm on Tuesday, Sayfullo who is believd to be 29 year old; drove a rented Home Depot Truck at West St/ Hudson St taken from NJ. Handwritten Arabic notes are discovered from this truck which point towards his allegiance with ISIS but no evidence is obtained so far.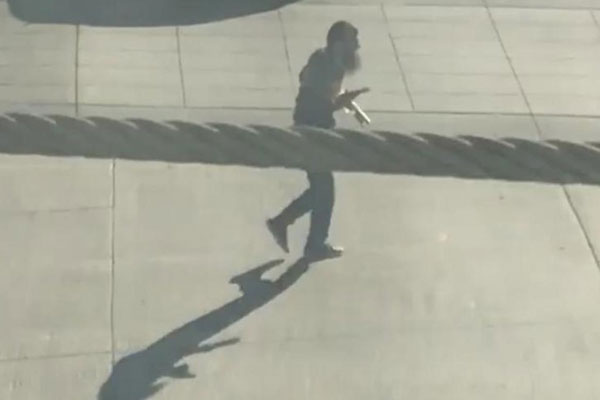 Image credit: nydailynews.com

Mayor Bill De Blasio, at a news conference stated, "Based on information we have at this moment, this was an act of terror, and a particularly cowardly act of terror aimed at innocent civilians"

Five of those killed were Argentinian tourists who traveled for a 30 year school reunion celebration. One of the other killed and 3 injured, are identified as Belgian.

Saipov was on Green Card, which is permanent legal residency and he came in 2010 from Uzbekistan. He lived in Paterson, NJ and Tampa, Fla.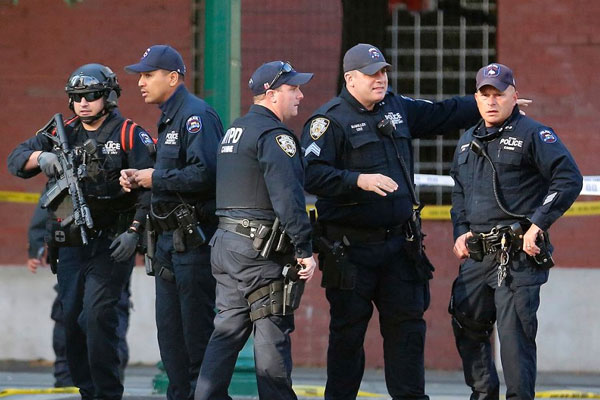 Image credit: stripes.com

Sirus Minovi a 14 year old freshman hanging out at the site on the attack, told that people scattered and shouted "gun, shooter, run away". At first they believed it to be a Halloween prank.

No sooner than the investigation began it was clear that Saipov was under the radar for his association with some investigation in the past. He was under an unrelated Federal investigation scrutiny.
                       Image credit: fox5ny.com

New York and other big cities around the world are already under threats from vehicle bound terrorist attacks. The past year has seen such such heinous crimes in France, Germany and England.

More reports to come in as charges get filed.

The development so far includes:


President Donald Trump calls it "another attack by a very sick and deranged person" and also  tweeting, "We must not allow ISIS to return, or enter, our country after defeating them in the Middle East and elsewhere. Enough!"
Mayor De Blasio calls this incident a "cowardly terror attack"
A home depot truck was rented at 2:00 pm from NJ
The extremist drove it into West St pedestrian/ bike path around 3:05 pm
He fired rounds of shots screaming " Allahu Akbar"
He then rammed into a parked school bus injuring two adults and 2 children
The Suspect identified as Syfullo Habibullaevic Saipov, a 29 year old Uzbek national on Green Card in the US
He then got out and ran all over the highway holding his pellet gun and paintball gun
NYPD then shot him in his abdomen, where he fell down
His condition was critical Tuesday night
6 died on spot and 2 later at hospital
Around 11 are injured but non-life threatening injuries
Bomb squad examined the truck for any suspicious explosives
Street closures in effect: 14th St, 23rd St, 34th St and West St in both directions


By Minu Manisha