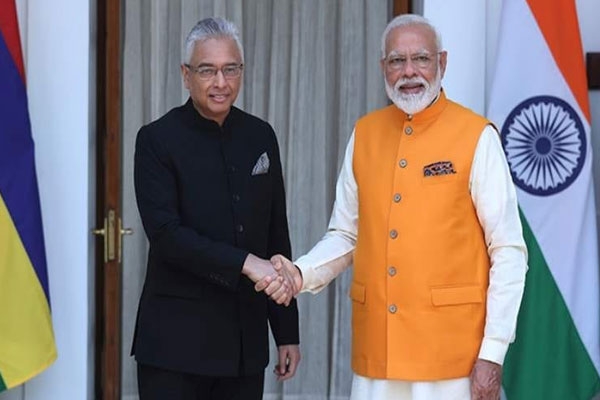 (Image source from: headlineenglish.com)
PM Modi along with his Mauritius counterpart Pravind Jugnauth will inaugurate the new Supreme Court building on July 30.
The virtual inauguration Mauritius's Supreme Court building will be done through video conferencing on Thursday, July 30.
The building was constructed through Indian grant assistance and will be the first building in the country built from Indian infrastructural assistance within the capital of Port Louis.
Other officials and dignitaries from both the countries will also take place in the launch event on July 30 digitally.
This new Supreme Court building will be the one of the five projects implemented under Special Economic Package of US $353 million extended by the Government of India to Mauritus in 2016.
The project of building the Supreme Court building was completed fast and below the expected costs. The building is spread across an area of 25,000 square meters and is built in the area of 4700 square meters. The building has 10 floors and flaunts a modern design with green features.
The buildings construction has been done focusing on thermal and sound insulation and high energy efficiency is kept in mind while designing the building.
Earlier, in October 2019, Prime Minister of India Narendra Modi and PM of Mauritius Pravind had jointly launched the Phase 1 of metro express project and also a new ENT hospital in Mauritius. All these were built using the special assistance given by India to the country.
Meanwhile, the Phase 2 work of this metro express project in Mauritius is under construction. Under the Phase 1 of Metro Express project, the 12 kilometer metro line construction was completed in September last year. Through the completion of ENT Hospital project, India has assisted in a 100 bed state of art ENT hospital in Mauritius.
Three more projects will be built in Mauritius with the assistance of India.
This new Supreme Court building the country of Mauritius will become an imperative landmark in the Port Louis city. This building will also symbolize the strong and cordial partnership between the two countries from years.
Recently, Israel has announced that would send its top R&D staff to India to develop fast result oriented COVID-19 tests and has also sent the ventilators to India. India has strong relationship with Israel too.
Mauritius, however, when spoken of this country in terms of gravity of coronavirus cases, the country has reported only 344 cases so far and the death toll is recorded to be 10. In all the 344 cases, 332 have already recovered from the virus.
Meanwhile, the world has crossed 16.7 million cases so far and has reported 661,000 deaths as of July 29, 2020.
By Gayatri Yellayi