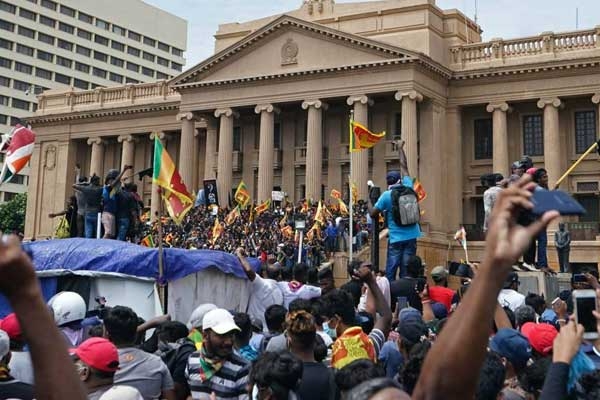 (Image source from: indianexpress.com)
Sri Lanka is battling with huge financial crisis and the country is now bankrupt. Considering the raging protests, the country's President Gotabaya Rajapaksa fled to Maldives from the country on a military jet. He fled from the country hours before he was supposed to step down from his position. The entire nation has been raging against him and his family members for mishandling the economy of Sri Lanka. The 73-year-old President fled from the country along with his wife and two security officials told the statement from the Air Force of Sri Lanka. He fled during the early hours of July 13th from the Katunayake International airport.
The office of the Prime Minister confirmed about the President leaving the country. BBC reported that the President reached Male at 3:00 local time. He was taken to an undisclosed location under the police escort. Therree are reports that Rajapaksa will fly to another location and it was not disclosed. His younger brother and former Finance Minister Basil Rajapaksa did not leave the country. The protestors broke into the Prime Minister's office, residence and a curfew was announced in the Western province. The mob also marched towards the Lankan Parliament.
The Prime Minister addressed the people and announced a military rule to restore the peace. Parliament Speaker Mahinda Yapa Abeywardena said that President Gotabaya Rajapaksa will submit his resignation today. Prime Minister Wickremesinghe is appointed as the acting President of the country.
By Siva Kumar