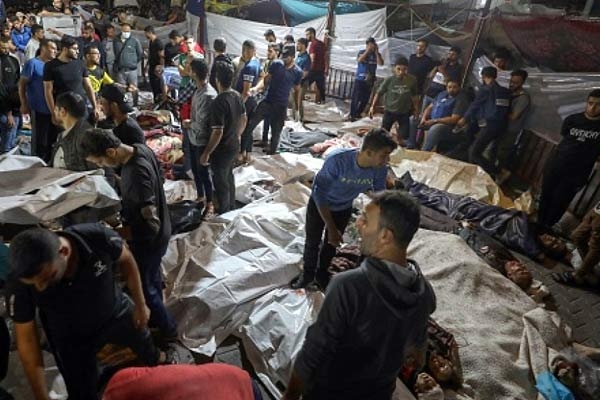 (Image source from: Newarab.com)
Ahead of US President Joe Biden, there was a strike at Gaza hospital, leaving 500 people dead. Tensions prevailed in the Middle East with the new rising strikes. Palestinian officials have confirmed the strike as the Israeli air strike that hit the hospital, while Israel blamed the blast that happened at Al-Ahli-al-Arabi hospital as a failed rocket launch by the Palestinian Islamic Jihad group, which they rejected.
The blame game between Gaza and Israel has taken the lives of 500 civilians. Daniel Hagari, spokesperson of Israel has confirmed that the airstrikes were not made by Israel. Islamic Jihad, a Hamas ally has released a press statement reading that this a brutal massacre and pointed the finger of blame calling it as a fabrication of lies that the Islamic Jihad movement in Palestine is the reason.
UN Secretary-General Antonio Guterres strongly condemned the acts and said this was a horrific attack. Hundreds protested before the UK and France embassies in Iran's Tehran as a regional support. Riyad Mansour, Palestinian Ambassador accused Israel's Benjamin Netanyahu of spreading false rumours over the deadly blast at the hospital in Gaza City that killed more than 500 people.
Besides, tension prevailed in Israel as Joe Biden will be in the country today.