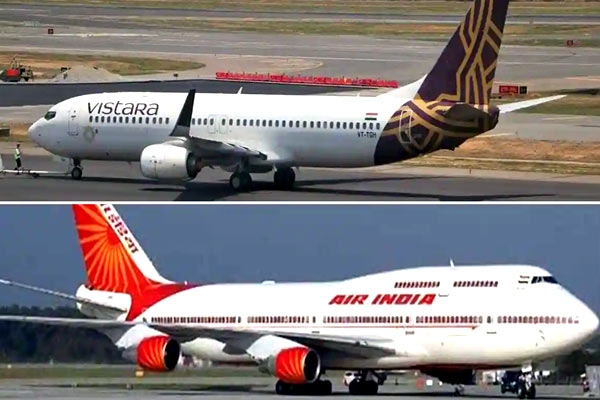 (Image source from: Zeebiz.com)
Tata Group is now merging Vistara in Air India after its joint venture Singapore Airlines decided to invest 25 percent stake. This will help to compete in the domestic and the international markets. Singapore Airlines was holding a minor share in Vistara now acquired 25 percent stake in the enlarged Air India and it would invest Rs 2000 crores. Air India will have operations in new routes. Tatas are having 51 percent stake in Vistara and Singapore Airlines is holding the remaining 49 percent since 2013. Tatas bought Air India for Rs 18,000 crores as per the disinvestment of the government last year. Singapore Airlines released a statement that the two owners are in plans for a complete merger by March 2024 for Vistara subject to regulatory approvals.
Tata also owns Air India Express and Air Asia India which are expected to be merged under Air India by 2024. The fleet size will reach 218 putting together Air India (113), Air Asia India (28), Vistara (53) and Air India Express (24). Then Air India will emerge as the country's largest international carrier and the second largest domestic carrier as per Tata sons. Air India is expected to order 300 new narrow-body jets and they will be delivered gradually. Tatas are now rebuilding Air India which was founded by their family but it was later run by the government. Air India reached the family of the Tata sons after the airline suffered massive losses. "As part of the transformation, Air India is focusing on growing both its network and fleet, revamping its customer proposition, enhancing safety, reliability, and on-time performance," told Tata Sons Chairperson N Chandrasekharan.