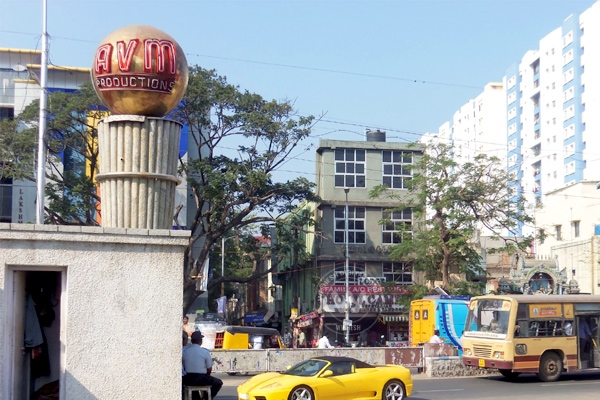 (Image source from: })
The legendary studio AVM has finished seventy years and is still running successfully and tirelessly. A documentary named 'AVM 70' gives a glimpses of its the success story.
Back in 1959, Kalathur Kannamma was a big hit for the AVM studios, in which Kamal Haasan entered as a child artist. Kamal turned emotional, when AVM Studios decided to remake the movie after many decades and asked the well admired actor to lift the child artiste for a photo-shoot.
Kamal said in a recent documentary released to commemorate the 70th anniversary of the studio, that, "The child was wearing the same shirt and shorts I wore in the film. AVM have preserved it till date. Not only the dresses, but scripts of every film."
Tamil writer Suka directed 'AVM 70' with rare glimpses of the legendary studio's astonishing success story, while most of the other production houses disappeared long ago.
Director Muktha Srinivasan said, "A.V. Meiyappan, Gemini Vasan, Nagi Reddi, Modern Theatres Sundaram, Jupiter Somu and Pakshiraja Sriramulu Naidu are considered six pillars of the Tamil film industry. But today only AVM survives."
Meiyappa Chettiyar – Man behind AVM
Meiyappa Chettiyar migrated from Karaikudi in Chettinadu to Chennai. His father was then running a shop in Karaikudi. The journey of Meiyappa Chettiyar then began in the film industry and motto of the AVM Productions, which he built brick by brick.
In 1943, he established Saraswathi Sound Production with first film being Alli Arjuna. It was reminisced by Meiyappa Chettiar in his autobiography that, "The hero of the film was Anandanarayan Iyer. He acted in the film mostly with his eyes closed because of powerful lights beamed on him. The film cost me Rs. 80,000."
There were power cuts during World War II, which did not allow him to set up a studio in Chennai. One was created by him in Karaikudi and Naam Iruvar, the first film, was hit.
-Sumana