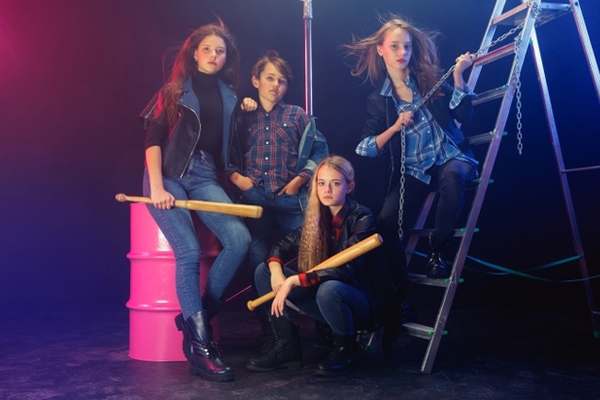 2020 has been a stressful year as most of us spent the whole year quarantining at home. However, that did not stop fashionistas from going all out with their creativity in fashion. With the rise of Tiktok and Instagram influencers showing off their creative and stylish looks, there is a lot of style inspiration available for both boys and girls around the world. After careful selection, we have rounded up the 11 best fashion trends for this year. Here are 11 simple yet creative fashion trends which will definitely turn heads in 2021:
1. Belts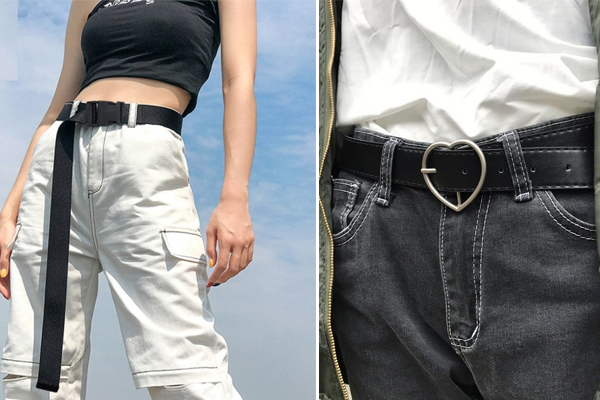 (Image source from: aesthechic.com, shopify.com)
Essentially, we soften see belts as a practical accessory. They help hold up baggy pants or lose pants from falling. Now, wear your statement belt which will help you give your pants the right fit to your waist and will make a fashion statement as well. You can also pair your belt not only with pants but also dresses and skirts. The mid section belt, which is where you let a large portion of your belt loose onto your clothing has become the new trend for belts in 2021. Use this little extra to cinch a dress, sweater, vests, skirts or practically any item of clothing. Essential but make it fashion.
2. Bralettes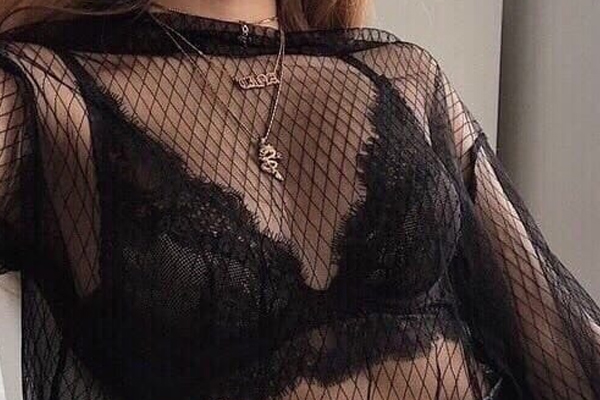 (Image source from: pintrest.com)
The Bralette has become one of the most iconic trends of this season. It is a bra which is either lace, cloth or almost any type which is paired with any shrug, netted transparent top, or a scarf. Even celebrities have been actively sporting this trend. You can also pick bright colors to style under a nude baggy top. There are a multitude of options in which you can style this trend.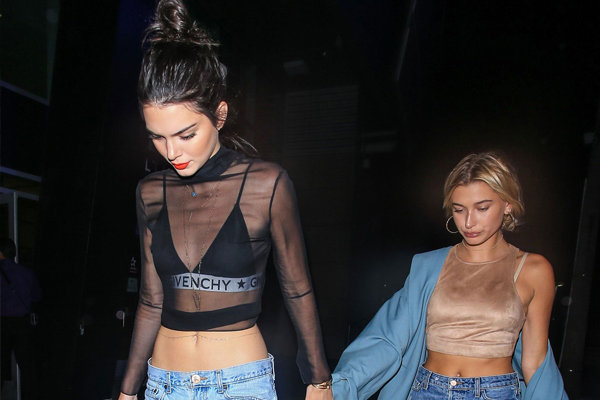 (Image source from: pintrest.com)
3. Shoes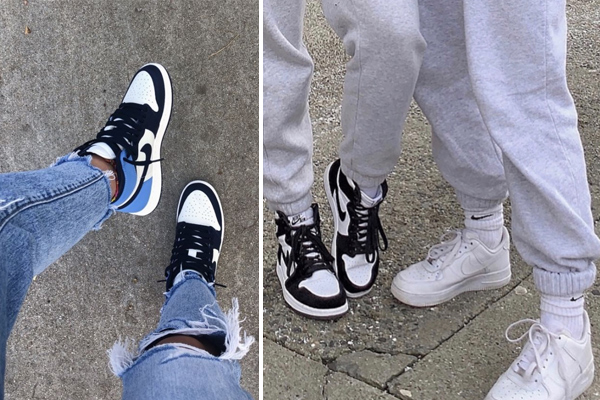 (Image source from: pintrest.com)
Heels are long gone now. Everyone is wearing shoes now, because comfort is fashion right? People have been pairing air forces with almost any outfit including dresses.
Shoes come in almost any color. And with shoes, anything is possible- walking, dancing, running etc. You can pair your shoes with dresses, skirts, pants, jeans etc. You can also pair your shoes with high socks or even ankle socks depending on the outfit you are wearing. You can also wear shoes with high tops which cover your ankles or shoes with low tops to sport your ankles. You can try companies such as Vans, Louis Vuitton, Prada, Adidas and Puma as well as great thrift stores to find the right shoe for you.
4. Bright colors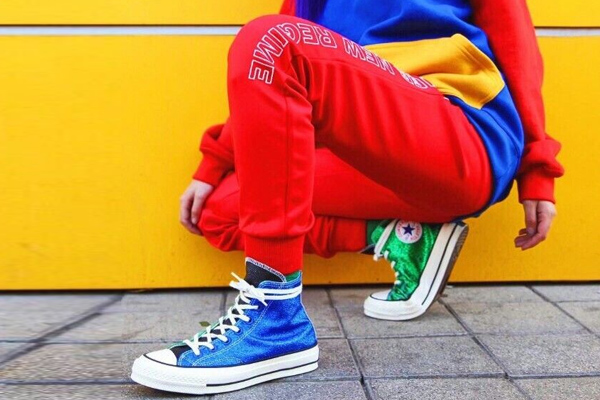 (Image source from: pintrest.com)
Last year was the year for minimalism, nudes and simple colors. This year, it is all about color. People have been sporting bright colors both top to bottom and mix matching outfits. Different colored sleeves, pant sides and even socks are the new and cool trend. This trend brings a more indie and retro look. Bright colors might not be so easy on the eyes but they are definitely eye catching and dominating if that is the style you are going for. If you are not much of an accessory person, then wearing brightly colored clothes might be the trend for you.
5. Mix match
                        (Image source from: pintrest.com)
Here is the most unusual yet sexiest trend. Different colored shoes in a pair. This means you buy a pair of shoes but both the shoes come in a different color. However, their style matches. Cool right? You can pair this unique trend with simple and neutral colors to highlight the look of the shoes. You can also pair it with pastel colored clothes to add more effect to the look of the shoes. This trend will go especially well with outfits including jumpers, three fourth jeans, shorts and sweater dresses. You can even create your own mix match shoes (recommended only if you are an artist). You can buy plain white shoes and decorate your shoes according to however you wish to.
6. Sweater Dresses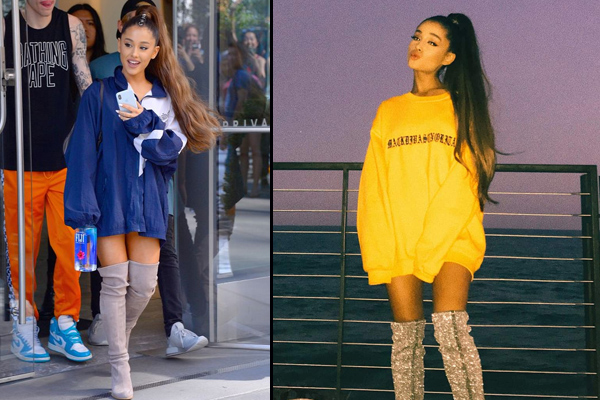 (Image source from: pintrest.com)
Speaking of sweater dresses, this is one of the most popular trends of 2021. Although it might have been done a few years ago, the trend is back again this year. Beat the heat yet stay comfy with sweater dresses. It is just a sweater long enough to come as a dress. You can wear shoes below with either high or low socks- your preference. You can even style this outfit with hoop earrings. This is yet another trend that has popular among celebrities for a while especially pop icon Ariana Grande.
                       (Image source from: pintrest.com)
Just like Ariana, if you choose to do so, you can pair your sweater dress with boots or heels along with a sleek high pony tail or bun.
7. Matching sets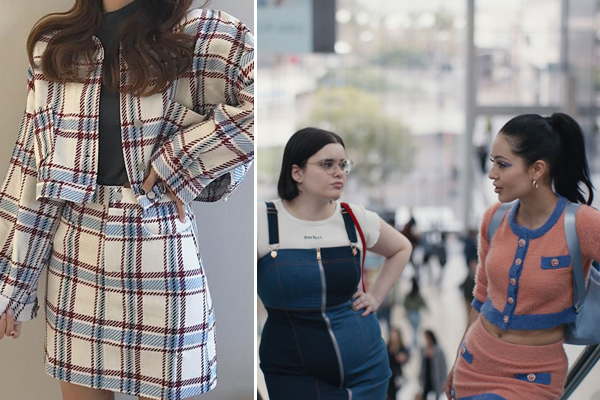 (Image source from: pintrest.com)
This trend is pretty self explanatory. This is one of the most common trends seen in the fashion industry especially in luxury brands. The beauty of matching sets is that the dress or outfit does all the talking. You do not need to add extra accessory or buy colorful shoes. It is even more fun to match your makeup with outfits like these. Matching sets is a fashion trend that has also been highly prevalent in TV shows and movies as well.
8. Oversized clothes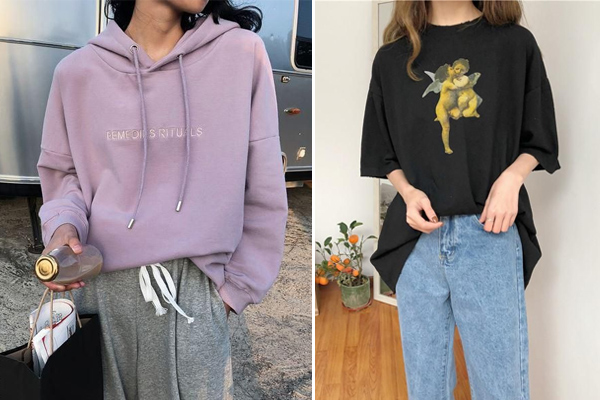 (Image source from: pintrest.com)
Why even check for your size when oversized is the new deal? This trend is pretty self explanatory. You just buy clothes that are too big for you and style them. You can use belts, creative accessories, sneakers, shoes and makeup to pop out the baggy clothes. This is yet another trend that has been highly popular among celebrities, fashionistas and pretty much almost the whole world. You can even pair the oversized clothes as an overcoat during cold weather with your right size underneath.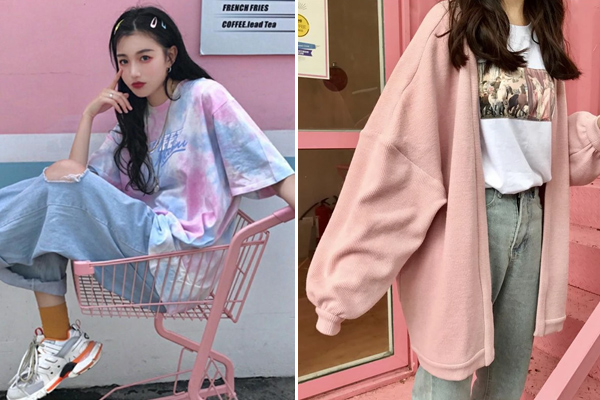 (Image source from: media.karousell.com, shopify.com)
9. Body Shapers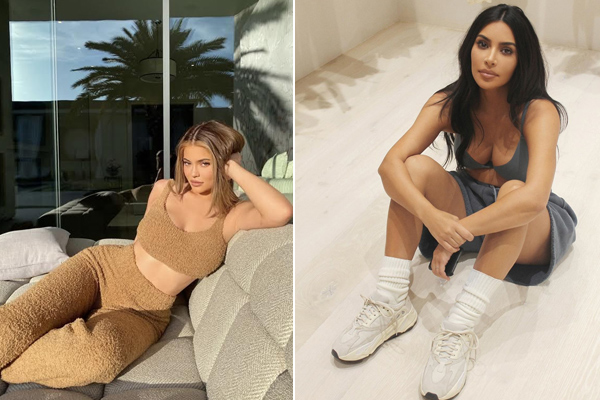 (Image source from: pintrest.com)
The highly risky trend, Body shapers have been worn by people not just to make their clothes align on their bodies properly, but as items of clothing itself. People have been pairing body shapers with comfy clothing, everyday wear and even formal wear. Reality Star Kim Kardashian began a company that sells shapewear called Skims. It comes in nudes and pastel colors and helps shape your body as well as is fashion. Yet again, comfort is fashion right?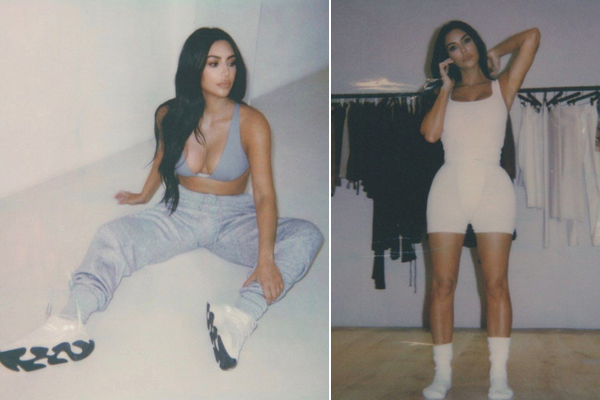 (Image source from: pintrest.com)
10. Vests
                       (Image source from: pintrest.com)
Bringing back the cute school girl trend, vests have been prevalent for a long time. Now, style bloggers are pairing cute vests with pastel , design or plaids with skirts, pants, jeans and even dresses. This can be a cute formal wear, school clothing or can even be worn for a casual afternoon lunch. You do not own a vest however? Do not worry, because you can make one yourself with an old sweater carefully cutting off the sleeves. You can also later a muscle tee or tank over a long sleeved shirt which will create a similar look as well.
11. Checkered clothing aesthetic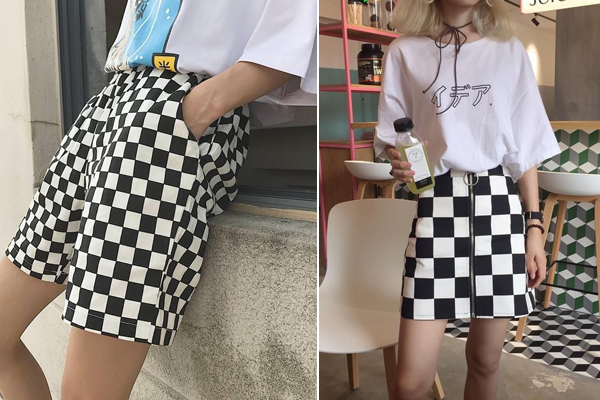 (Image source from: pintrest.com)
A cute and aesthetic trend that is suitable for all ages is the checkers trend. It can be worn on any part of your clothing, whether it is a hat, buries, shirt, skirt etc. It is easy to style with checkered clothing. They not only come in black and white but multiple colors as well. This design for clothing is proof that time does not exist and that vans will never go out of style.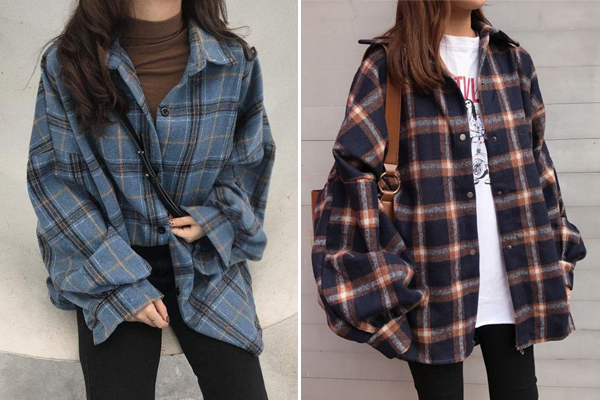 (Image source from: pintrest.com)
By Meena Atmakuri