Watch: 6-Year-Old, 9-Year-Old Play Chess Tournament for over 4 Hours, Officials Forced to Call Draw
July 04, 2019 12:01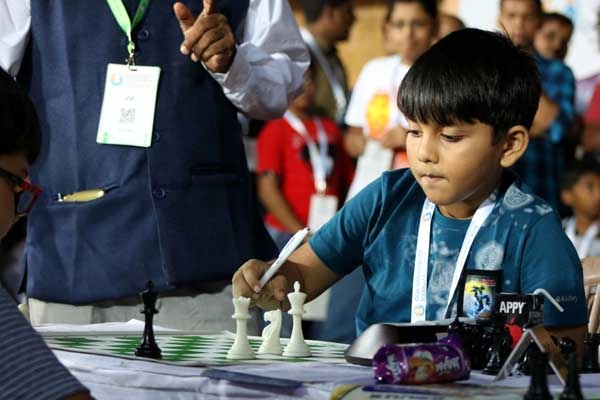 (Image source from: ChessBase India)
Two Goan chess players, Aarush Arsekar, 6, and Chirag Khinvasara, 9, in their first-ever tournament not only won hearts but applause, and admiration of fellow players, organizers and arbiters on Monday.

The duo, who only began playing chess two months ago, exchanged 202 moves, including a 75-move rule, during their four-hour, 42-minute marathon match. The rule, as per Fide Chess Rules, involves 75 moves without the movement of any pawn and without any capture. Thus, arbiters were eventually forced to declare the match as a draw.

At the Goa International Open Grandmaster Chess tournament at Shyama Prasad Mukherjee indoor stadium at Taleigao, the two boys played the right moves, registered notations on the sheet, and exhibited knowledge of pressing the clock - earning 30 seconds to stretch the game.

By the time they finished, Arsekar and Khinvasara were hailed as heroes and showered with praises as they created a record of sorts in the tournament, featuring in the longest match up to now. While there officially is no record of a 'longest match', organizers acknowledged it could be so in the B and C categories.
"I have never seen such a match in my life at this level. I had to follow the rules, and this is the beauty of chess," said chief arbiter Gopakumar MS. "As per Fide rules of chess 9.6.2, I had to intervene as the game saw 75 moves without the movement of any pawn and without any capture. If Khinvasara had killed Arsekar's knight, I would have been forced to allow them another 75 moves. Khinvasara made one illegal move. The rules state that a player loses the match after making two. My hands were tied."

However, Gopakumar had the option of adjourning the match. "I could have done that," he said. "However, there was a possibility that one player could finish the next round early and get coaching. So, I waited for the 75-move rule."

In the meantime, Arsekar, who was so exhausted that he lost his next round match, said, "I didn't know what was happening. All I wanted was to win".

Khinvasara, on the other hand, was lucky. "I knew I had lost the game but fought and earned a draw."

Arbiters were eager to get the match done with, but, even with 500 players watching them closely, the boys were unfazed.

"We were amused with their abilities," another arbiter said. "We had to follow the rules and make chess popular. I am sure such games will make chess popular."

However, the stretched eighth-round game forced arbiters, fellow-players, and organizers into a tizzy as they had to schedule their ninth-round match. Without the eighth-round result, arbiters couldn't pair the next round as per 'Swiss League'.

Arsekar, a Class I student at Sharada Mandir, Miramar, offered a draw to his counterpart Khinvasara, but the Class V student at Mushtifund High School, Cujira, declined, making the 6-year-old determined to win the game.

After four-hour duel, it was Aarush, who had a queen and a knight advantage. Chirag had nothing on board except the king.

The players kept fighting with Aarush not realizing that he had 'Material Advantage' to finish the game. 'Material Advantage' is a term used in chess when a player has enough pieces to win the game.

By Sowmya Sangam