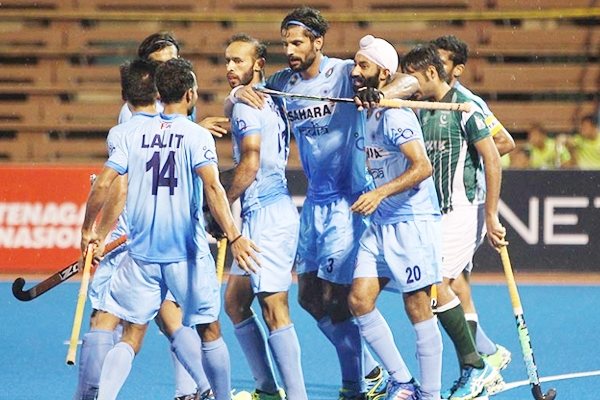 In a preliminary league match of the fourth Asian Champions Trophy hockey tournament, top-ranked India earn a 3-2 victory over defending champion Pakistan.
India exhibited a composed defence when under pressure from early Pakistan raids and worked hard to gain control of the match. India led in the 22nd minute with the maiden goal of Pradeep Mor in his 13th international appearance. Then Pakistan took the lead through strikes from Muhammad Rizwan Sr. in the 31st and Muhammad Irfan Jr. in the 39th.
Rupinder Pal Singh converted India's only penalty corner in the 43rd while Ramandeep Singh made it 3-2 just a minute later by deflecting in a diagonal cross from Talwinder Singh.
Now, India has seven points from three outings. It defeated Japan 10-2 in its first match and was held to a 1-1 draw by South Korea.
On the other side, Pakistan suffered a 4-2 loss against host Malaysia and then won 1-0 over South Korea in its previous matches. The top four team from the round-robin competition will advance to the semifinals.
The results:
India 3 (Pradeep Mor 22, Rupinder Pal Singh 43, Ramandeep Singh 44) bt Pakistan 2 (Muhammad Rizwan Sr. 31, Muhammad Irfan Jr. 39).
Malaysia 7 bt Japan 2.
Also Read: India wins Kabaddi World Cup, keeps its kabaddi crown
Nandini