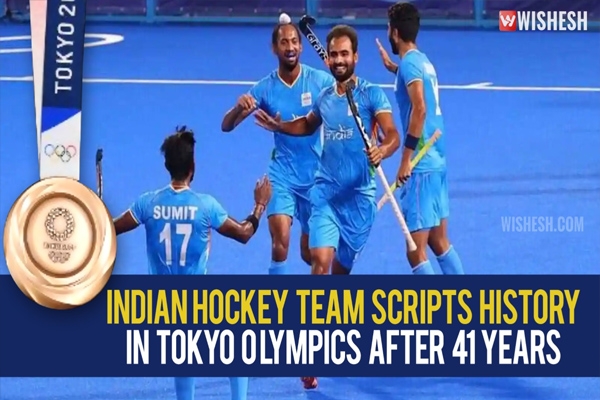 The entire nation is rejoiced after the men's hockey team of India won an Olympic medal after more than four decades. Indian team battled with Germany and ended up winning a bronze medal after 41 years in Olympics. The Men in Blue sealed a 5-4 win against Germany in the bronze medal match in the Tokyo Olympics. Simranjeet Singh scored two goals for the team in Oi Hockey Stadium. Hardik Singh, Harmanpreet Singh and Rupinder Pal Singh scored the other goals for India. This victory kept an end for the long wait for a medal in the Olympics. Right from Prime Minister Narendra Modi to the politicians, film celebrities and others, everyone showered wishes on the Indian hockey team for the achievement. Punjab Sports Minister Rana Gurmit S Sodhi announced Rs 1 crore cash award for every hockey player who represented the team from Punjab.
Everyone lauded the victory calling it a historic achievement. India's last Olympic medal in hockey was gold in 1980 and a bronze in the 1972 Olympics. The hockey team was well trained in the afternoons to tackle the heat weather condition in Tokyo. When the nation is battling with the coronavirus pandemic, the men's hockey team was locked in the Sports Authority of India (SAI) Centre in Bengaluru. They were asked to be trained in the afternoon heat considering the extreme temperatures of Tokyo. The team was reluctant about the cramps and the injuries but the coach Graham Reid and the captain Manpreet Singh decided to go ahead.
The breaks are doubled to cool down from the heat and the turf is sprayed with water during each quarter for a smooth match. The Indian hockey team has eight gold medals in total and the last gold medal from the Olympics came in 1980 Moscow Olympics. The match was quite thrilling between India and Germany and the Indian team took over the lead after half of the match. Finally, the Indian hockey team will return home with a Bronze.
By Siva Kumar