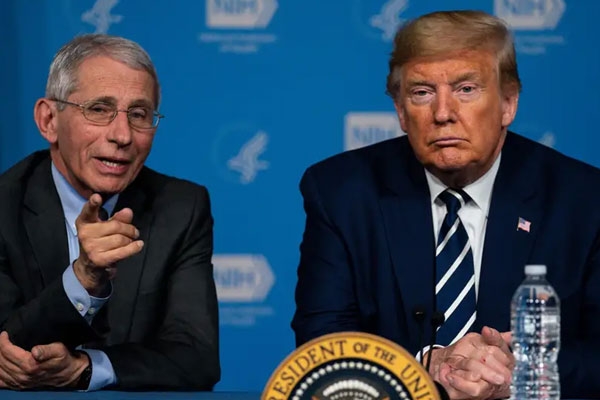 (Image source from: businessinsider.com)
Even with the constant rise in the death toll in the United States, President Donald Trump informed that he is planning on reopening the US economy in the following weeks and not months.
In one of the White House briefings on March 24, 2020, President Trump consistently refused to confirm that he would listen to the public health authorities in case they advised any restrictive measures for containing the further spread of the virus.
Trump alliterated saying, "We'll see what happens."
In the briefing, it was also mentioned that New York City, New Jersey and Long Island are proving out to be the hotspots of the confirmed cases of Coronavirus in the United States.
United States experienced the worst hit of the Covid-19 cases reporting 100 deaths on March 23, 2020. According to the figures, over 44,000 confirmed cases of coronavirus has been reported along with the death toll standing at 557.
Even with the figures rising, Trump said that it is important for the economy to open up the country soon.
Highlighting thus, Trump further stated saying, "Our country was not built to be shut down. This is not a country that was built for this."
The president also said that he expected everything to become normal back soon, especially within a few weeks and not the same dragging out for months on end. Suggesting that he said that he is not going to keep the country on lockdown for months, that is not he is looking forward to doing.
According to the justifications posed by President Trump, he believes that a locked down country could result in more deaths. He stated saying, "People get tremendous anxiety and depression and you have suicide over things like this, when you have a terrible economy, you have death, definitely … in far greater numbers than we're talking about with regard to the virus."
While it is true that there could be possible risks of suicide over the laboured economy of the United States, the experts have reported that there haven't been any case registered for the same yet.
Some of the early projections of the case suggest that there could be hundreds of thousandths of deaths if the economy is opened before the spread is contained completely. While the mortality rate in Wuhan was around 1.4%, one of the studies conducted by the researchers from the Harvard University found that the same was 20-60% in US.
Trump believes that the mortality rate of the coronavirus is not that bad as he feared it would be. When asked in the press conference whether loosening the restrictions could impose any negative impacts with the spread of the virus, Trump said that he relies on the reducing curb of the mortality risks.
"The whole concept of death is terrible, but there's a tremendous difference between something under 1% and 4 or 5 or even 3%," Trump said.
By Somapika Dutta