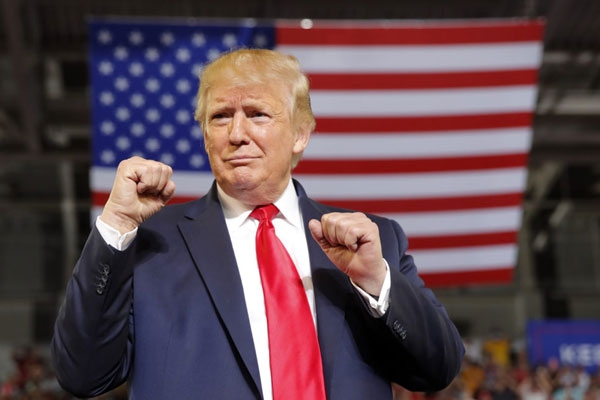 (Image source from: sundayguardianlive.com)
Former USA President Donald Trump has been permanently banned from Twitter. Both his accounts have been permanently disabled. The @POTUS account which is his former government official account along with @realDonaldTrump which has 30 million and 23 million followers respectively.
Twitter also stated that any accounts which are being used by Trump and are official or accounts related to him will be banned permanently.
The reason for this permanent ban was due to Trump supporting and aiding the mobsters at the recent Capitol attack through Tweets. He had also been spreading false, inappropriate and culturally insensitive messages through Tweets. Twitter has disabled all his accounts.
This is the first time in history that Twitter banned a head of a state or country.
Donald Trump had stated before his Twitter got deleted that Twitter is not allowing him and his supporters to speak freely and express their opinions. He sent these messages through Tweets which later on got deleted.
Trump seemed to be on a list of agitations. His loss at the 2020 presidential elections, Joe Biden taking over his presidency.
Biden is set to take over Trump's presidency on January 20th. After the Capitol attack by Trump supporters and white supremacists, Trump finally accepted defeat and will not be attending the inaugural session on 20th although it is a custom that the former president hand the presidency to the newly elected president.
Trump has also made several allegations on Twitter regarding a recount and how Biden was cheating during the elections. He tried to file multiple lawsuits along with some Republicans but all efforts were in vain.
Trump broke the three step rule which caused his permanent ban to his accounts on Twitter. Any user is given three chances before being permanently banned. If they break all three and are tweeting provocative, hateful or culturally insensitive messages to attack any group being any religion, gender, community, country, etc. They will be permanently banned from the platform.
Last week on Wednesday, the Capitol building in Washington DC was attacked by pro-trump supporters and white supremacists, killing 5 individuals, harming multiple police in the building and harming the democratic representatives. This situation has created havoc among the United States citizens and citizens are claiming this act to be an act of terrorism and not protest.
Trump is currently in hiding with his family for safety as the whole nation is against him right now. Celebrities have took to twitter regarding Donald Trump's ban and most are rejoicing it.
During his presidency, many citizens disliked Trump from the start. Twitter banning his account has been a relief to all the anti-Trump supporters. These anti-supporters are also keen on seeing Joe Biden as President of the United States with Kamala Harris as the vice President.
BJP MP from Karnataka Tejasvi Surja took to Twitter to state that this is a wake up call for all countries as Democrats are capable of doing anything. He also stated that even India needs to learn from this an install better regulations for a better democracy in our country. He stated this message in a tweet on Twitter. He also stated that he does not want Twitter to ban anyone even his opposing parties. However, Indian citizens must learn to not say hateful messages and be respectful to all on social media platforms is what he said.
More news regarding Trump's actions and Joe Biden taking over the presidency reign is yet to come out soon.
By Meena Atmakuri