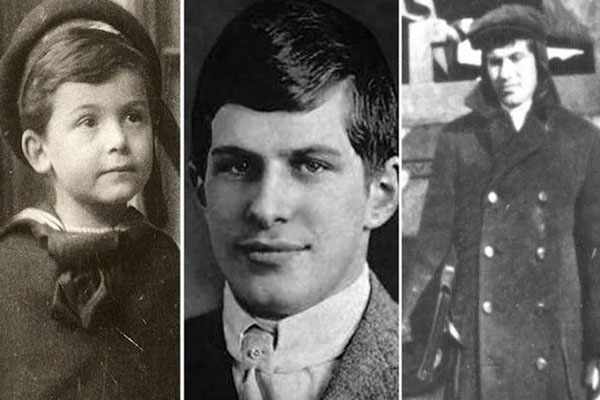 (Image source from: rayhaber.com)
Who is James Sidis and why is he the smartest man in the world and of all time and not Albert Einstein? Here is why.
William James Sidis was a young boy, born in Boston in 1898. He made headlines in the 20th century as a child prodigy with outstanding intellect.
Although he underwent tiger parenting (when the parents are absolutely strict and force the child to do extremely well in academics which often causes the child to go into depression), his IQ from a young age was estimated to be 50-100 points higher than Einstein. He began reading the New York Times when he was 2 years old. At the age of 6, he could speak 8 languages including English, Latin, French, German, Russian, Hebrew, Turkish and Armenian.
He is the youngest boy to ever get admitted and enter Harvard in the history of the university. He attended Harvard when he was only 11 years old.
His parents were very smart as well. His father was a famous psychologist and his mother was a doctor.
Wallace's parents were always very pushy and aggressive. They believed that pushing Wallace and making him study as much as he can will make him a better individual. Wallace's father stated that at a very young age, his son Sidis invented his own language, wrote French poetry and even wrote a novel and a Constitution for his own Utopia.
Although he was accepted into Harvard at the age of 9, he only attended the school when he was 11 as his school wanted him to wait until he was 11.
Wallace describes his Harvard days as the worst days of his life. He was constantly bullied and made fun of. He was constantly humiliated for his age and just wanted to be a grown up man as soon as possible.
Sidis' close friend and author, Amy Wallace, told media that Sidis was always very shy and hated any attention. He liked being indoors and alone. He also hated his household name.
So why wasn't Sidis Wallace more famous and why did he not get the recognition like how Albert Einstein did?
Sidis was a writer in hiding. He worked for a while as a math professor after he graduated from Harvard. He went into hiding from the public and moved from city to city, taking up odd jobs. He often used an alias so that no one would recognize him as the child prodigy.
He was actually a writer in hiding. He wrote a lot of books including a 1,200 page book of the history of the United States. He also wrote a book on streetcar transfer tickets, which was one of his favourite hobbies as he loved to collect them. His books were never widely published and he used 8 different pseudonyms while publishing each book.
His father stated that no one will ever know how many books he published, considering the large number of fake names he had used.
One of the books, that was recognized as Sidis' writing under another pseudonym was discovered. It was an inscribed copy of a book he wrote in the year 1925 called The Animate and the Inanimate. It was sole in London to an anonymous collected for 5000 pounds which rounds up to about 8000 USD.
Until 1937, Sidis had lived a quiet, silent and peaceful life away from the limelight. In 1037, the New Yorker sent a female reporter to become his friend and gather information for an article they were writing about the child prodigy who was known as the boy wonder.
After the article was published, Mr. Wallace, Sidis's father told the media that the article of him in the New York Times was humiliating and it made him sound crazy. He also said that the article was highly inaccurate and crushing. After the article was published, Sidis was so humiliated that he actually came out of hiding to sue the paper for publishing the article.
Sidis had argued heavily in court against the paper and won the case. However, unfortunately shortly after the incident, in 1994 he died from a brain hemorrhage. He was 46 years old at the time.
Although he had a very depressing and highly stressful childhood, his adult life was much better for him. He was very happy as he lived a lonely, peaceful and the life that he always wanted to live, instead of basking in the spotlight.
Sidis's mother stated that anyone who personally knew the boy loved him. He was very friendly, loving, kind and also handsome. He went from being a completely traumatized boy to becoming a happy and satisfied adult man was also one of the things his mother had said. She also stated that he was a big fan of animals. As a young boy he would always be around animals and would convince his parents to bring him multiple pets. Even when he grew older, he had a lot of cats that would live with him as he moved from city to city. He would apparently talk, sing and read to his pets from time to time.
Sidis had no love interest in his life at any point. He spent most of his life writing and reading books an poetry, living in absolute solitude. Unlike Albert Einstein who decided to introduce the atom bomb to the world and became one of the most greatest scientists and smartest man of all time, Sidis chose the road not taken. If Sidis would have chosen a different path, the world would have known him differently.
Sidis Wallace had left so many unknown traces of his adverse knowledge, especially in literature. It would have been quite impressive to see what he would have done with his extreme and vast knowledge. However, as an individual, he chose his happiness and sanity before fame which makes him a moreover inspiring person for all of us professionally and personally.
By Meena Atmakuri