Georgia Mother Orders Disney-Themed Cake for Daughter Instead Receives Marijuana-Themed One
July 10, 2019 19:47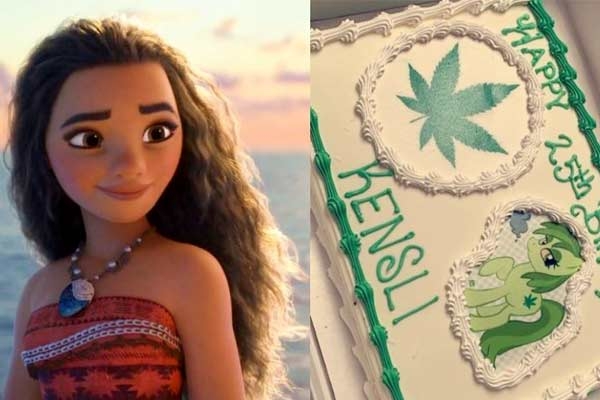 (Image source from: Latestly.com)
Have you ever on your birthday or any special day experienced receiving a cake with a weird name or an of an unusual themed one that is completely irrelevant to what you actually ordered?
In a funny instance, a mother in Georgia who ordered Disney-themed cake for her daughter's birthday was left open-mouthed after she received something completely different.
The cake had 'marijuana' written on it with green colored icing. Tammy Davis had asked the bakery for a cake with 'Moana' written on the top as it is her daughter's favorite character for her 25th birthday party. However, the bakery misheard her and made a marijuana-themed cake. It also had a cannabis leaf and green 'My Little Pony' horse that looks stoned.
The hilarious goof-up went viral after Kensli who works as a bartender at a Longhorn Steak House, posted pictures of the cake on Facebook. Tammy had asked for a cake decorated with the Hawaiian heroine of the 2016 Disney movie.
The Facebook post was quick to go viral and has received 11,000 shares and over 10,000 likes. Posting pictures of the cake on Facebook, Kensli wrote, "I haven't had a chance to tell y'all about our experience this weekend with my birthday cake. So my mama called and ordered me a cake telling them how much I loved Moana. (Because really I do) Well needless to say these people thought she said marijuana. That ice cream cake was still good though."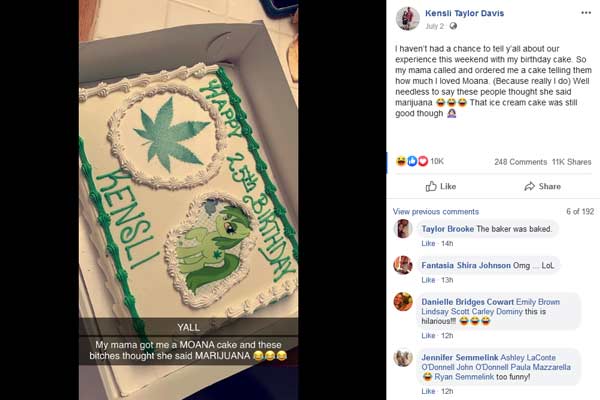 (Image source from: facebook.com/@KensliTaylorDavis)
However, the mother has not yet spoken to the bakery regarding the fiasco. She jestingly said that she is not planning to publicly shame anyone by taking names.
By Sowmya Sangam